Ask an undergraduate question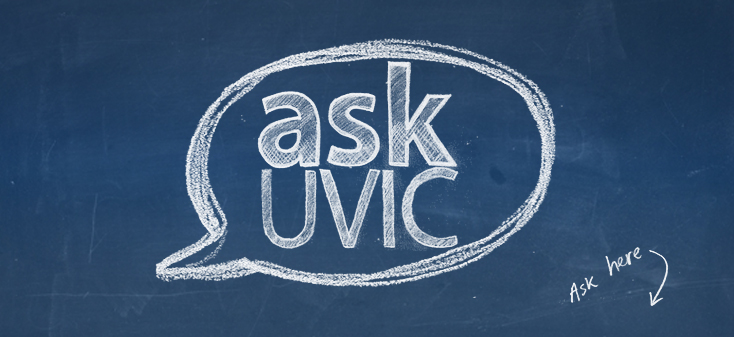 Using Ask UVic
Ask a plain language question like: How do I apply for admission?
---
Best response
Uploading documents to My UVic application
If a document is issued in a language other than English please provide a certified English translation.
Scan documents in a readable resolution.
Save each documents as a separate file. Only PDF files can be uploaded. Files in other formats (JPG, PNG, Word, TIFF) cannot be uploaded.
If a single document consists of several pages, please scan all pages into a single file.
Files must not be password protected.
Files must be 3MB or less in size. If you must scan in a lower resolution to ensure your documents are not larger than the limit, please ensure the document is still readable.
Sending official transcripts to UVic
Mailing Address

Undergraduate Admissions
University of Victoria
P.O. Box 3025 STN CSC
Victoria, BC
V8W 3P2

Courier Address

Undergraduate Admissions
University of Victoria
University Centre
3800 Finnerty Road
Victoria, BC
V8P 5C2
More information on how to send transcripts.
Ordering official transcripts
If you are an undergraduate student, please see Transcripts.
Please read the information on the applicable Official Transcript Orders page prior to submitting your order. If you have any further questions please contact call 250-721-8121.
No student number
If you do not remember your student number, you can still order an official transcript - please email studentsupport@uvic.ca or call 250-721-8121 and be prepared to provide the following:
full name
date of birth
courses you took in your first year
address on record
email on record
the program and area of study.
Administrative (unofficial) transcripts
Viewing unofficial transcripts
If you do not require an official transcript, you can view your complete academic record, or Administrative Transcript by signing in to UVic and choosing Student Services > Grades and Records > Administrative Transcript.The Administrative Transcript is accessible at any time and is free of charge.
You do not need to be a current UVic student to make use of this service but you must have a NetLink ID and passphrase.
To save your Administrative Transcipt, you can print the pages as a PDF, then save the generated file. The PDF will be watermarked as 'UNOFFICIAL'.
---
---
Related Questions